Anlian pearl and nail riveting machines are widely used in the riveting work of pearl and four claw nails, which is suitable for clothing, footwear, leather bags, craft jewelry and other industries。 Company is strict in controlling quality points, a full range of service tracking and making high-quality products to create the most integrity of the national enterprises and the greatest value to the customer。 Our company's spirit is "customer demand as the center, customer satisfaction as the purpose"。 We hope our products and services to create greater value for you! Your satisfaction is the unlimited power of our work! Look forward to working with you。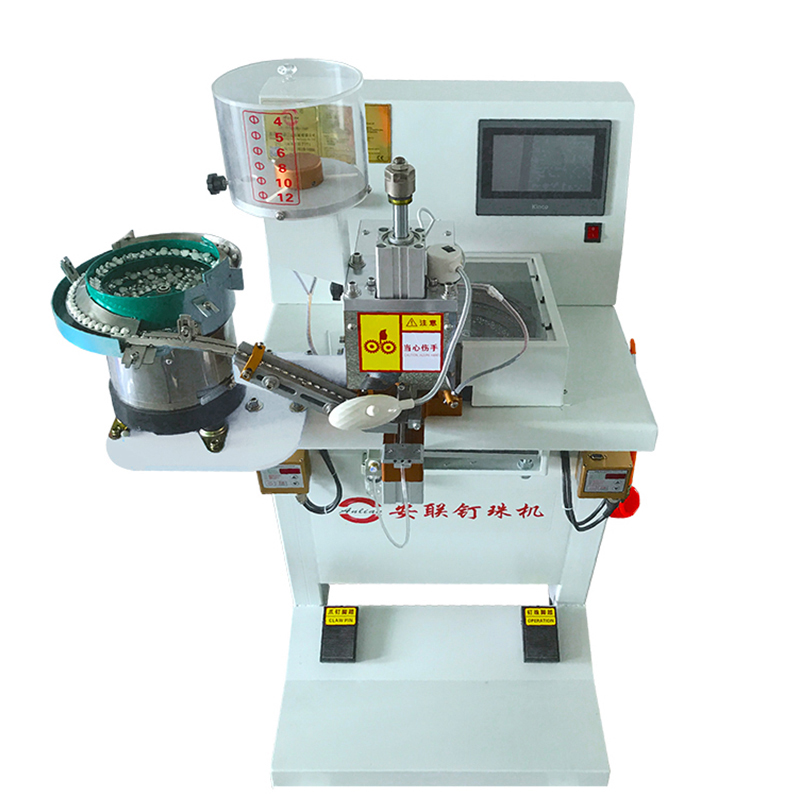 Equipment Parameter
| | |
| --- | --- |
| Type | AL-177 |
| Gross Weight | 125KG |
| Power Supply | 220V/50HZ |
| Total Power | 0.26Kw |
| Machine Dimensions | 660*1290*730mm |
| Working Pressure | 0.4-0.6MPA |
| Nail Riveting Speed | 150-280times/minute |
Product Application
  Pearl and nail riveting machine is widely applied in clothing, T-Shirts, embroidery, leather, hair accessories, handbags, hats and other accessories, utilizing infrared positioning, which can reduce the artificial with high work efficiency, and it is the best alternative to conventional drilling hot product.
Feature:
1。Round nail riveting speed is 220-300 times per minute; special shaped nail riveting speed is 160-220 times per minute。
2.Scientific and innovative design, advanced processing technology, strict standards and precise riveting.
3.Single punch pedal, independent top material device, rapid elimination of nail stucking phenomenon.
4. This machine is designed for riveting 4 - 12 mm round pearl or 6-12mm semi circle / square / cone / cone shaped pearls or four claw nails, which is fixed on textile and garment, leather goods, bags, jewelry industry, or others decorative pattern.

Contact:132 6619 0666 QQ:675075953